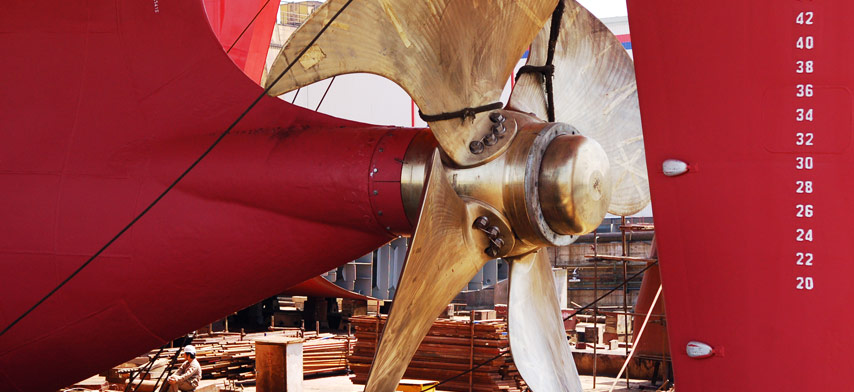 Controllable Pitch Propeller Plants
Hub with propeller blades
Propeller shaft
Pitch control unit with hydraulic system
Shaft couplings
Stern tube seals of Simplex Compact type
Remote control unit
Spares and services
Steering Gears
AEG Telefunken
Hatlapa
KGW
Winches
Brisonneau & Lotz
Bröhl
Hatlapa
KGW
Siemens
Pneumatic & Hydraulic Equipment
Bosch
Bürkert
Brüninghaus
Buschjost
Ermeto
Hydronorma
Lucifer
Mecman
NABCO
Norgren
Orsta
Parker
Rexroth
Wabco
Electronics
Intercom system
Radio amplifying station
Echo sounder
Engine control fire alarm central station
Automatic power generating plant
Control and switch gear air & liquid
Data recording system
Sensors
Further we can serve you with new equipment and spares of:
Accumulators
Air Condition Equipment
Anchors
Bearings
Bellows
Blowers
Bow Thruster Spares
Brake Linings
Container Lashing Material
Couplings
Deck Machinery
Electrical Equipment (AEG, EAW, Hundt & Weber, Oromax, Schneider, Siemens,
Telemecanique, Terasaki)
Filter (AKO, Boll & Kirch, Donaldson, Fleetguard, Hydac, Mann & Hummel, etc)
Fire Fighting Equipment
Grinding Machinery
Heat Exchangers
Heaters
Hoist Blocks
Hoses
Hydraulic Systems
Incinerators
Indicators
Ladders (Gangways)
Lifeboat Equipment
Liferafts Inflatable
Machine Tools
Mooring Systems
Motors, electrical
Navigation Equipment
Oil Mist Detectors
Oily Water Separators
Packings
Propellers
Ropes
Safety Equipment
Shackles
Shafts
Smoke Detector Equipment
Sewage Treatment Systems
Tachometers
Tank Level Systems
Thermometers
Valves
(Ball-, Cock-, Diaphragm-, Gate-, Globe-, Needle-, Relief-,Safety-)
Ventilation Systems
Welding Equipment
Fishing Vessel Equipment – new and spares
Fish Processing Machinery (Baader)
Refrigeration Plants (Ice Generators and Compressors)
Twines
Wire Ropes
Shackles
Thimbles
Blocks Inflatable Buoys
Fenders
Trawl Floats
Spare Parts and Components from former eastern germany
VEB Dampfkesselbau Ubigau
VEB Dieselmotorenwerk Leipzig
VEB Elbewerk Roßlau
VEB Turbowerk Meissen
VEB Chemieanlagenbau Erfurt-Rüdisleben
VEB EAW Berlin-Treptow
VEB Klement-Gottwald
VEB Mathias Thesenwerft
VEB Orsta Hydraulik Karl-Marx-Stadt
VEB Pumpenfabrik Salzwedel
VEB RTF Fernmeldewerk
VEB Schiffsanlagenbau Barth
VEB Schiffselektronik Rostock
VEB Schiffswerft Oderberg, Rechlin, Stralsund, Rostock-Warnemünde, Wismar, etc.
Class Certificates
We are able to provide class certificates of DNV GL, ABS, BV, LR, RMRS, KR etc. for main components (Cylinder cover, Cylinder liner, Piston assemblies, etc).  However, the class inspection charges should be paid additionally by customers. If you require class certificates, please inform us with your request.
Back to top